Alfredo Aceto
Brains & Bronze
HIT, Rue des Amis, 1201, Genève
22.01.21–05.03.21

Fabian Marti, 2020, Impression jet d'encre, cadre. 57X68 cm
©Julien Gremaud

FR
(english below)
Alfredo Aceto se pose la question du corps et de ses métamorphoses. Récemment contraint de rééduquer le muscle de sa langue, il expérimente le retour à l'appren- tissage oral, pourtant acquis lors de l'enfance. Cette oralité obtenue si lointainement semble être innée, puisque son application devenue naturelle absorbe le souvenir de l'initiation. Son réapprentissage apporte alors une conscientisation gestuelle et poé- tique, catalyseur de cette présente exposition.
La série Esercizi Muscolature Orofacciale per Artisti est une suite d'exercices rédigés initialement par le médecin Daniel Garliner. Bien que destinées à ces mêmes problématiques myofonctionnelles et utilisées à des fins cliniques, ces courtes ritour- nelles empruntent des images et des codes propres à l'univers de l'enfance et de la fable. Onomatopées, images ou métaphores, elles mobilisent davantage de sens qu'elles n'en prétendent stimuler, et rejouent l'aller-retour emprunté récemment par l'artiste dans l'apprentissage infantile. Sérigraphiées industriellement, ces phrases interviennent comme des poèmes et fonctionnent séparément, mais leur aspect sériel intègre l'idée de la mélodie entêtante.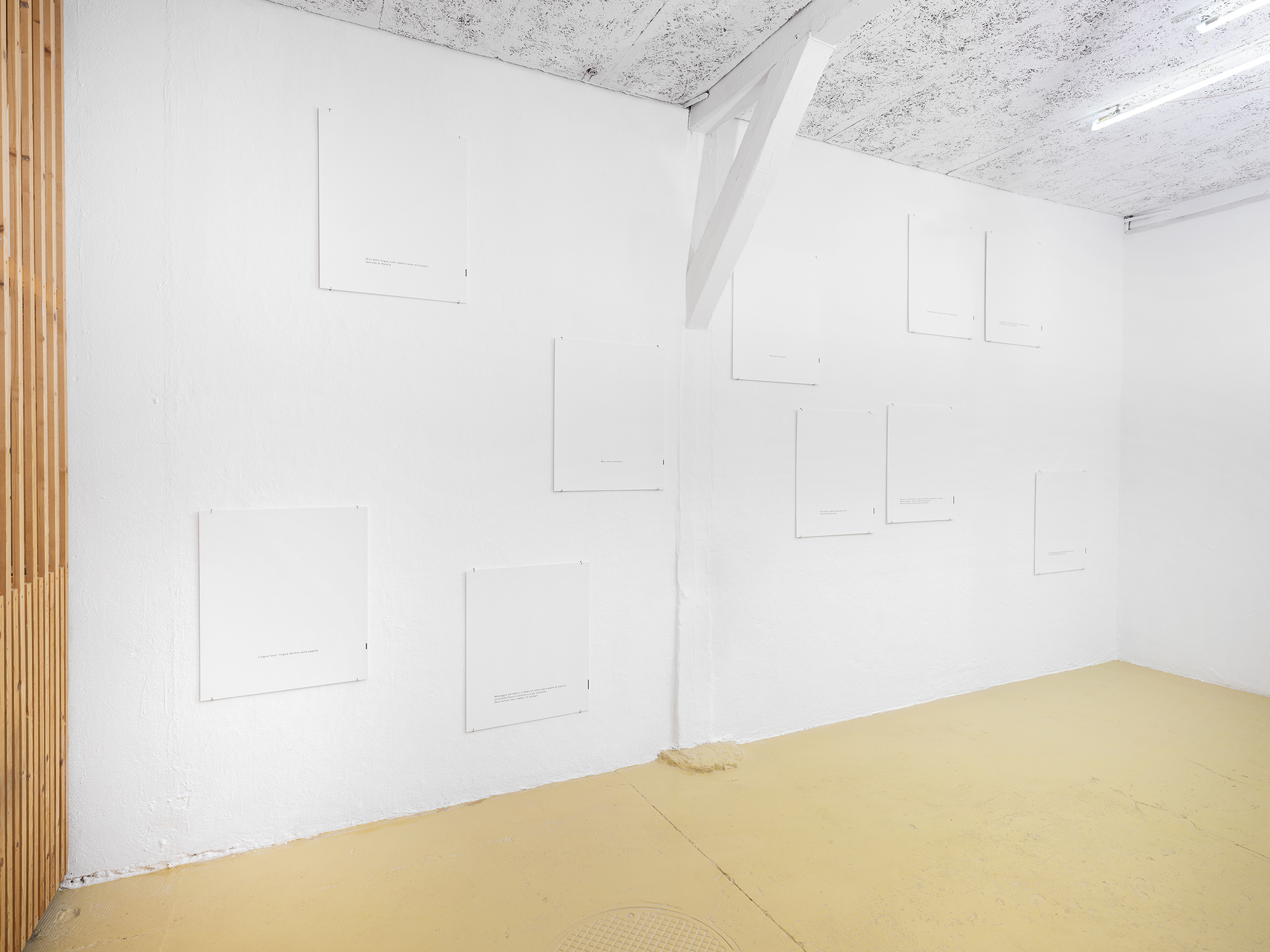 Esercizi Muscolatura Orofaccial per Artisti I, III, IV, V, VI, VII, VIII, VIII, IX, X, XI, 2020, Sérigraphie sur carton. 60 x 71 cm.
©Julien Gremaud

Le bronze Bocca con Matita reprend l'un des exercices sérigraphiés. Si le corps était jusqu'alors présent par l'écriture, il est ici visible et également abordé par sa sexualisa- tion et son fétichisme. La bouche est forcée de coexister avec la rigueur formelle du crayon qui reconduit la question de l'écriture, mais cette fois-ci bloque le dégagement d'idées et d'allocution.


Bocca con Matita, 2020, Bronze, peinture à l'huile. 17X5X3,5 cm Unique
©Julien Gremaud

La pièce Fabian Marti, elle, remplit le rôle de l'image dans l'exposition. La poule, bec ouvert, semble reprendre l'idée de l'expression, du chant, du son. Une pièce qui mime silencieusement sa bruyante apparence. A proximité, les sérigraphies peuvent faire office de cartels, qui se multipliant, élargissent les possibilités de l'image. A la sortie de l'espace, un poulailler citadin souligne de manière presque tautologique la notion du transfert et de la métamorphose présente au sein de l'exposition. La poule qui mimait sa relative existence, reproduit maintenant son environnement.
Si dans le reste de l'exposition le corps est toujours sous-entendu mais présent, d'An- gleterre souligne ici son absence. A l'instar du lit vide de Felix Gonzalez-Torres marqué par la récente présence de deux corps, les chemises, elles immaculées, caractérisent le rapprochement en devenir de deux corps amoureux. Ce ready-made assisté intègre comme Fabian Marti, une animalité latente.

Laurence Favez



d'Angleterre, 2021, Chemise, corne, 43X31,5X8 cm
©Julien Gremaud

EN
Alfredo Aceto raises the question of the body and its metamorphoses. Recently forced to re-educate the muscle of his tongue, he experiences the return to oral learning yet acquired during his youth. This orality obtained so distantly seems to be innate since its second nature application absorbs the memory of initiation. His relearning then brings a gestural and poetic awareness, catalyst for this exhibition.


Esercizi Muscolatura Orofaccial per Artisti I, III, IV, V, VI, VII, VIII, VIII, IX, X, XI, 2020, Silkscreen and cardboard. 60X71 cm.
©Julien Gremaud

The series Esercizi Muscolature Orofacciale per Artisti is a series of exercises written initially by Doctor Daniel Garliner. Although designed for these same myofunctional diseases and used for clinical purposes, these short ritornellos borrow images and co-des specific to the universe of infancy and tale. Onomatopoeia, images or metaphors, they mobilize more meaning than they claim to boost and replay the return trip taken recently by the artist in childhood learning. Industrially screen-printed, these sentences intervene as separately existing poems, but their seriality incorporates the idea of a heady melody.
The bronze Bocca con Matita takes up one of the screen-printed exercises. If the body was, until then, present by writing, he is clearly visible here and also addressed by his sexualization and his fetishism. The mouth is forced to coexist with the formal rigor of the pencil that brings back the question of writing, but this time blocks the develop-ment of ideas and speeches.


Fabian Marti, 2020, Inkjet, frame. 57X68 cm
©Julien Gremaud

As regards the piece titled Fabian Marti, it fulfils the role of the image in the exhibition. The chicken, beak open, seems to take up the idea of expression, singing and sound. A room that silently mimics its noisy appearance. Close by, silkscreen prints can act as labels, which by multiplying themselves broaden the possibilities of the image. Getting out of the exhibition space, an urban chicken house emphasizes in an almost tautolo-gical way the notion of transfer and metamorphosis present within the exhibition. The hen that mimicked its relative existence, now reproduces its environment.
If throughout the exhibition the body is always implied, but present, d'Angleterre un-derlines here his absence. Like the Felix Gonzalez-Torres' empty bed, marked by the recent suggested presence of two bodies, these immaculate shirts embodies the reu-nion of two people in love. This assisted ready-made integrates as well as Fabian Marti, a latent animality.

Laurence Favez